NO MORE TEARS IN CAVERSHAM
Our customer in Caversham had a laptop that was running extremely slowly and having problems with downloading internet sites. With a couple of toddlers at home she was very reliant on being able to shop online and be able to use her online banking. That's aside from the sheer frustration of the laptop being barely usable. In her own words it was so bad she was "almost reduced to tears at times".
We picked the laptop up from her at home and dropped it back to her a few hours later working beautifully.
We'd removed a total of 9 trojans/viruses plus some other malware, optimised the Operating Systems services and stripped back the amount of programs launching at start up. We removed quite a few useless toolbars, uninstalled some poor Anti Virus software and replaced it, installed some excellent anti malware software and just for good measure installed Chrome & Firefox browsers as she was using an old Internet Explorer version that is susceptible to security breaches.
She called a couple of days later to say she was delighted but couldn't find her bookmarks in Chrome. We talked her through importing these on the phone. Turns out we'd forgotten to import these in the first place. Nobody's perfect!
Close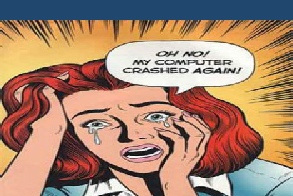 www.mountainstreamltd.co.uk